Bitkom Membership
July 29, 2019
Why it is Crucial to Collaborate with Startups
Lots of established German companies are having difficulties on how to perform the digital transformation. Therefore, they mostly collaborate with IT-specialists or consult other companies, either they are of the same industrial sector or of any non-digital-sector.
However, collaborations with startups are not seen quite often. The German IT and telecommunications association Bitkom found out, that only one third of German companies, of a size bigger than twenty employees, are stating that they are working together with startups.
In fact, especially startups are crucial for innovations, as they usually refresh old fashioned processes and structures.
But this is not the only reason for a collaboration. More than every fourth company states that startups endanger their current market position.
Knowing that startups are serious competitors, the question arises why companies are not increasing their collaboration with startups?
According to Bitkom the answers usually are: a lack of time, no suitable projects, no network contacts in the startups scene or not finding it valuable to cooperate. Only every fourth company interviewed complains about financial restrictions.
President of Bitkom, Achim Berg, says
Who doesn't have time to collaborate with startups obviously doesn't have time for the future of his or her company
Challenges in Cooperating with Startups
Besides the reasons Bitkom mentioned, it is often the case that respective departments, who would deal with corporate startup development, are currently just being established. Startup scouting activities can be found in Corporate Development or in special innovation management departments. It seems, that the area of responsibility concerning this topic is not yet defined for the whole corporation. Also, how the process of startup collaboration works proofs that we are facing structures in an early stage. Processes are often realized with Excel sheets and Powerpoint slides, which leads to a lack of transparency as well as coordination problems.
The aumentoo Solution
As a holistic startup engagement platform aumentoo supports the whole startup process.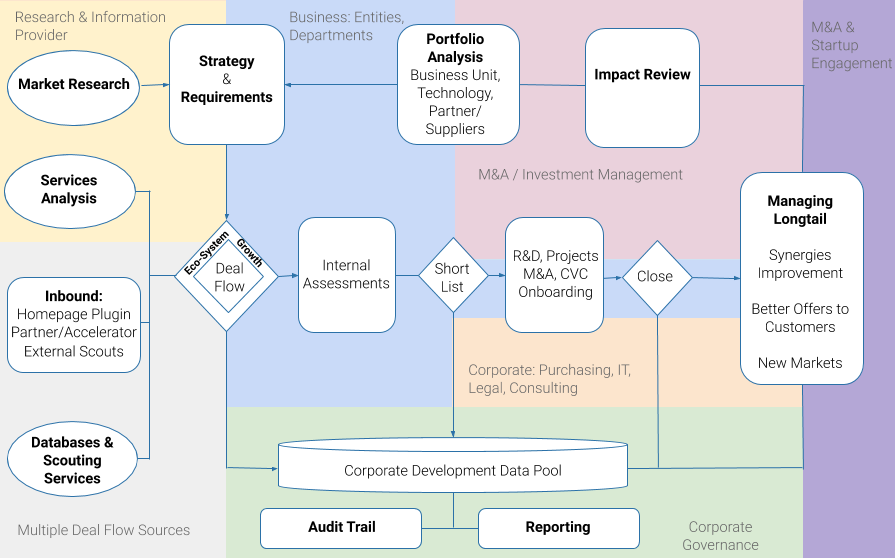 This is done by monitoring the startup landscape and media analysis through various sources, continuously finding innovations based on your corporate strategy, realizing a participative process for assessments and evaluations, adhering to the corporate governance compliance and transparency requirements, allowing management reporting for Proof of Concepts and Corporate Venture Capital activities as well as easily involving the management and business units for a faster time to market.
Generally, aumentoo significantly increases productivity in the area of external innovation management through automated data handling, a shorter execution time and lower frictional losses.
As a result, restrictions such as a lack of time, which have been mentioned by corporations, can be overcome effectively. Finally, there is a high increase in transparency, making processes clear and accessible throughout the different departments involved in the startup process.