Your Critical Success Factors
and how aumentoo supports the achievement of your strategy

Type of Innovation
We see different levels of innovation and each level will either improve, transform or disrupt customer lives. From a company perspective each comes with a different level of risk and fear of change that need to be addressed and managed properly.
Improve
The most basic level, where you improve the way something is done. This could be done by reducing the number of steps to complete a task. It's not disruptive and it's not transformative, but it is an improvement.
Typical tasks that can be handled with aumento:
Investigate current offerings, identify improvements, scout internal and external opportunities
Transform
Transform, opens up the door to changing user habits and subtly introducing new and more efficient ways of operating.
Typical tasks that can be handled with aumento:
Watch technology trends, integration with business and R&D, risk management
Disrupt
Disruption is the final, more drastic approach to innovation when a complete industry is forced to reevaluate their approach. This isn't possible without understanding the user pain points. Typical tasks that can be handled with aumento:
Question status quo, deal with risks, manage expectations

Deal Flow Sourcing
There are different deal flow sources that help corporates finding their next innovation. Typical sources can be Partnerships like accelerators, strategic partners, universities or VC funds, Internal Activities like hackthons, intrapreneurship programs, incubators or corporate venture capital programs and External Activities like scouts, databases, consultancies, networks.
We group the mix of deal flow sources and the workload involved into three categories:
Simple
The usage of only one or view sources.
Medium
The usage of view sources, growing interactions between them and an increase in administrative overhead.
Complex
The usage of several sourcing activities that need to be coordinated and aligned to avoid redundancies.
For all the categories aumentoo supports these returning tasks:
Communicate with the different sources, feedback consolidation, prepare longlist, arrange internal pitches and summaries, promote startups.


Engagement with Business
The aim of the startup process is to land in the business and contribute to success. Therefore an appropriate understanding of the business needs and the right level of interaction and commitment between the departments is one of the key success factors. We figured out three different categories of engagement:
AdHoc
This level is characterized by a non systematic connection between the different departments and the actors in the startup process. All relevant people are aware that there is such a process. There is some communication and Information sharing.
Structured
People are enabled to cooperate. Different participants and groups coordinate in a systematically way and align work or tasks.
Embedded
In this level, there is a close collaboration between business and startup process. The relation is longterm, the mission is shared even decision making and resources may be decentralized.
With aumentoo you can connect all the groups and participants in the startup process, support administrative work, introduce new opportunities, get and consolidated feedback and understand the needs of the business.

Corporate Functions Engagement
Corporate Functions have various information requirements, habits and roles in the startup process. We grouped the collaboration between startup process and corporate functions around the following three concepts, which can be supported by aumentoo:
Information
Corporate functions are informed and get regular updates. They are aware of the startup process, yet they are neither supportive nor resistant to concrete activities.
Interaction
Corporate functions give their metrics e.g. reporting requirements and want to guide the process and decision making. They are aware of the potential impacts and are change supporter.
Contribution
The corporate functions' engagement is part of the startup process and daily culture. They are actively ensuring the project's success. There is a constant feedback and exchange with the senior management.

Startup Relations
This critical issue deals with the desired relationship and outcome between corporates and startups. As too often corporates destroy the value of a startup causing costs and damaging their reputation in the well connected startup scene. Depending on your startup goals aumentoo can support these relationship types:
Reporting
The startup provides a defined set of reporting, so there is enough transparency of what is going on.
Supporting
The corporate provides functions like legal or finance to support the startup business.
Learning
There is serious interest to learn from the startup about customers or corporate internal processes as well.
Interested in discovering the potential added value your company gets using aumentoo?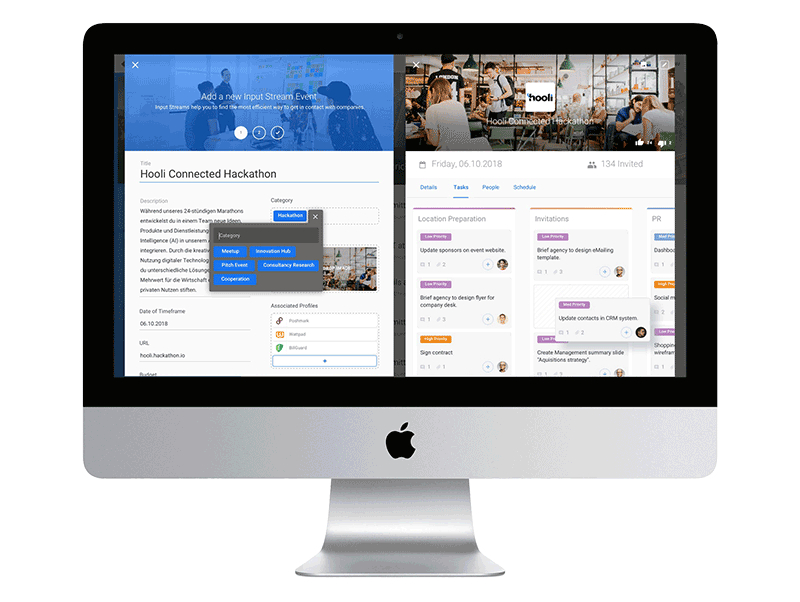 aumentoo accelerates change
with a participative startup process

to identify, select and drive
new technologies, business models and process improvements